Welcome to BiomagScience, the Science of Biomagnet Therapy
​
Using Magnets for Healing
Advanced Magnetic Therapy for Painful Injuries & Illness ​

What is Magnetic Therapy ?
Magnetic Therapy is a Natural Therapy using Biomagnets to treat ailments in humans and

pets and Is 100% safe to use with no side affects.

These Bio Magnets are used On Various Parts Of The Body To Relieve Pain and The

Resolution Of Injury, Illness, Disease, Nerve Regeneration

​Magnetic Therapy works on its own or in conjunction with both natural and conventional

therapies and is an Alternative Medical Practice that uses Static (i.e. unmoving) magnets to

​ alleviate pain and other health concern



Why Use Magnets?
A great deal of interest exists in Magnetic Therapy for Medical Conditions due to

Electro-Magnetic fields that occur naturally in the body, Nervous System and related

conditions that are associated with magnetic activity.

Magnetic Therapy is an Alternative Medical Practice that uses magnets to alleviate pain &

​ other Health Concerns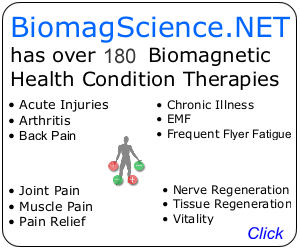 Biomagnetism is being used by many practitioners and consumers Worldwide especially in

Asia where they have Known of the Healing Properties of Magnetism for many years.
How does Magnetic Therapy Help?
Magnets may help to increase Blood flow and Circulation
Speed up the Healing Process and Alleviate Pain
Helps to Reduce Inflammation in the body, particularly around injuries
Removes excess fluid and toxins retained in the tissues
Helps to re-align the Body`s Natural Magnetism, returning it to normal
​​​For Example :
​
General pain
​
Low Back Pain
​​​Foot pain
Osteoarthritis
Rheumatoid Arthritis
Fibromyalgia
Chronic Fatigue
Carpet Tunnel Syndrome
Painful Menstrual Periods
Nerve Pain caused by Diabetes
Sports Injuries and Migraine Headaches.
Painful Menstrual Periods
Nerve Pain caused by Diabetes
Sports Injuries and Migraine Headaches.
Magnetic therapy is intended to benefit normal structure and function and

​ is not prescribed as treatment for medical or psychological conditions
History of Magnetic Therapy
Magnetic Therapy has a long history that goes back at least 5000 years and probably even

earlier than that.
​
Chinese Doctors believed in the Therapeutic Value of Magnets which also became a

commonly used technique of self-administered medicine in Japan for treating aches and

​pains.
Magnetism is both a leading-edge science and traditional therapy and many cultures have

tried magnets with ​varying results since then.
​
It is said that Cleopatra used to sleep with a lode stone (natural magnet) under her pillow at

night.

Paracelsus, a scientist in the late 1400's, used them successfully to treat seizures and many

​other illnesses.
Biomagnetic Science ~ Magnetic Therapy​

The Author And Creator : Peter Kulish
​Quote

Peter Kulish began his research in Biomagnetic therapy almost four decades ago.

Originally studying and consulting with the godfather of Biomagnetism,Albert Roy Davis,

Peter took an advanced degree from the Broeringmeyer Biomagnetic Institute.

He has consulted, and developed energy medicine protocols with doctors, scientists, and

researchers from around the globe.

He is respected worldwide for his extensive research of Biomagnetism and pioneering the

development of advanced therapies and protocols for prevention, wellness and resolution of

pain, injury, illness, disease, nerve regeneration and most medical conditions.

Extensively researched and used by the Asian Energy Medicine Association, his protocols

are taught in curricula ​throughout Asia, where Energy Medicine is considered standard

medical practice.
​
His therapies are used by individuals, practitioners, & medical institutions and health spas

​throughout the​world.
Un-Quote
​Benefits Of Using Certified BioMagnets
BioMagnets are Designed with the "Scientific Findings" of some of

The World's leading Alternative Medical Scientists and Researchers

Small & Simple To Use

Provides the exact energy for proper penetration – to help Support All Conditions

Used worldwide by practitioners, clinics, and International Medical Colleges & Universities and


Over Three And A Half Decades Of Research

​ Foundation for Magnetic Science through BiomagScience is devoted to your Health

They support, teach & provide the latest Biomagnetic findings to help you

Enjoy a better quality of life

They are there for you and your family.



Why Hesitate ~ Act Now
Get the Pain Relief you are seeking
Click Here For Pain Relief with Biomagneticscience Advanced Therapies and Protocols For Prevention, Wellness and Resolution Of Pain, Injury, Illness, Disease, Nerve Regeneration And Most Medical Conditions.
Used Worldwide by Practitioners, Clinics International Medical Colleges & Universities ​